Mental Preparation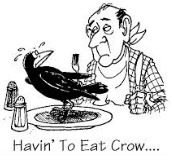 I'm sure you are wondering if this section is simply an elaborate practical joke to anyone visiting the website. On the contrary, we have received a great many requests asking for further information about the culinary delights to be experienced when dining on the "Black Bandit". In fact, we believe a natural prejudice has prevented most crow hunters from even considering this bird as wild game. Our experience is that the mere mention of dropping these birds on the menu brings a series of comments from other hunters as if we had just suggested stir frying up a batch of common sewer rats. And if you ever make the mistake of sharing these thoughts with a non-hunter, be prepared for the same reaction you might get if you invited them to dine with the Donner party. This is a shame since, properly prepared, the members of the Corvid family are as tasty as most other game birds and even tastier than some. Besides, with crow populations as high as they are, what an untapped resource we have at our disposal.

Historically, crows, as well as other non-songbird species have been common fare. Remember "four and twenty blackbirds baked in a pie"? Our revulsion seems to center around the fact that the crow and it's close relatives are scavengers and therefore unfit to eat. Well, as far as pigs and chickens are concerned, you just wouldn't believe what these supermarket critters will stick in their mouths. Seafood? You honestly don't want to know what goes into a Blue Crab before it ends up on that expensive crab cake platter. I suppose the same goes for lobsters. The list goes on.
In short, it's really just our cultural prejudice that limits our possibilities. You know, maybe crow meat just needs some clever marketing terminology. Look what they did for Sweet Breads and Escargot...
Field Preparation
It will come as little surprise to anyone that even the biggest crow doesn't make much of a meal. However, the fact that it is often possible to take large numbers at a time can compensate for this. Since a morning shoot can easily net from 10 to 100 birds, you want to limit the amount of time necessary to clean each bird. Put out of your head any idea of plucking a crow like you would a goose or duck. Besides the breast meat, there just isn't enough edible meat on a crow to make it worthwhile. Using the technique described below, you can extract the best meat of a crow within a minute or two with very little mess.
Method 1
Lay the crow on it's back in front of you with it's head pointed to the right.
Take a finger and locate where the breast bone meets the upper abdomen.
With a sharp knife, make a cut across the crow (wing to wing) below the breast bone. Don't be concerned about cutting toodeep, no edible meat will be damaged with this cut.
Holding the birds feet with your left hand, place 2 or 3 fingers under the skin where the cut was made and pull in opposite directions. The skinless breast meat should now be exposed.
Take the knife again and separate each breast half away from the bone starting in the middle and working outward. You should end up with 2 lime sized pieces of crow breast. Discard the remains properly.

Method 2
Lay crow on ground breasts up.
Place feet on wings as close to the body as possible.
Grab the the legs, one in each hand and pull straight up. This will leave you with the breasts and wings.
Cut off wings.
Cut breasts in half.
Done!
The meat can now be frozen, marinated or freshly prepared.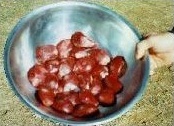 The results of a quick morning hunt ready for the freezer or the skillet.
This batch took about ten minutes to clean. Looks like real food once the feathers are off.

Recipes
Below are some recipes that have been donated by fellow members. Feel free to try these or to experiment with your own creation. There is no reason why any recipe for dove, quail or grouse to be found in a wild game cookbook would not work just as well. Then you can decide whether to tell your guests what went into the recipe before or after they have finished. Bon Appetite!!
Have you "Eaten Crow" and have a favorite recipe? Please send it to: staff@crowbusters.com
Pre-Cooking Preparation


submitted by Robert B.
You can use this method with crows, coots, diver ducks and just about any fowl that may have a strong flavor. Use as many breasts as you decide to grill and soak them from 2 hours to overnight in salt water then thoroughly rinse and dry the breasts. Then use your favorite brand of Italian dressing and put enough to coat the bottom of a container you can put a lid on and put a layer of breasts, a layer of dressing, and keep layering till all the breasts are in the container. Finally, top off with dressing and put in fridge over night. The next day they will be tender and tasty.
Summer Crow Kabobs


submitted by Gordon Krause (Crow Busters Founder)
Ingredients
16 pieces of crow breast meat (no bones) (8 crows)
16 pieces of green pepper
16 cherry tomatoes
8 button mushrooms
8 ears of sweet corn
1 1/2 cups of Teriyaki sauce
1/2 cup melted butter
8 kabob skewers
Preparation
Cut each piece of crow in half and place in a covered bowl with the Teriyaki sauce over night. Clean and cut each ear of corn into 3 pieces. Cook in boiling salt water for 10 minutes. Alternately put corn (3 pieces), green peppers (3 pieces) and cherry tomatoes (3) along with 4 pieces of crow meat on each skewer. Use 1 mushroom to top each skewer. Brush with melted butter and place on preheated grill for about 4 minutes. Flip, butter again and place back on grill for another 4 minutes. Repeat one last time for a total of 12 minutes or until they appear done.
Country "C" Medallions


submitted by Marta Hnizda
Ingredients
24 pieces of crow breast meat (no bones) (12 crows)
2 medium onions (chopped)
6 tblsp of oil
5 slices of bacon (chopped)
1 big or 2 small turnips (peeled & chopped)
1/3 of celery root (peeled & chopped) - note: substitute with celery
3 tblsp wet mustard
1 tblsp lemon juice
salt, pepper to taste
dash of paprika
2 bay leaves
2 juniper berries - note: substitute with allspice
1 tblsp Majorjam (crushed)
1 heaping tblsp of mayonnaise
water
Preparation
Saute onions and bacon in oil until golden. Add meat, spices and saute some more. Add vegetables and the rest of the ingredients except mayonnaise. Add enough water to keep the meat almost covered. Simmer slowly, adding water as it evaporates. In about 3 hours you will see that the meat is soft enough to cut with a fork. Take the meat out and place on heated platter or dish to keep warm. Remove the bay leaf and put all the gravy (about 2 cups) in a blender and blend. When thoroughly blended, add mayonnaise and blend shortly.

Add gravy to meat and serve over rice with a winter salad. Serves four adults.
Pan Fried Crow


submitted by Chris Thompson
Ingredients
2 eggs
seasoned bread crumbs or flour
oil or bacon grease
Preparation
Remove breast meat from as many crows as desired. Beat with meat mallet (for tenderizing). Dip pieces in beaten egg and then in bread crumbs or flour. Fry in oil in hot skillet. Bacon grease can be substituted by can smoke. Leave inside a tad pink.
Crow Creole


submitted by George Carpenter
Ingredients
2 medium onions
2 fresh chilies chopped
2 ribs celery
3 cloves garlic minced
1/4 pound butter
16oz. chicken broth
1 can whole tomatoes
1 small can tomato paste
8oz. ketchup
1/8 teaspoon white pepper
1/2 tablespoon Cajun seasoning
1 tablespoons hot pepper sauce
1/2 tablespoons garlic sauce
1/4 tablespoon sugar
1/2 teaspoon Tabasco sauce
1/2 tablespoons Worcestershire sauce
1/4 teaspoon salt
1/8 teaspoon freshly ground black pepper
1 teaspoon chopped fresh thyme
1 tablespoon fresh squeezed lemon juice
1 pound (12 pieces, or so) crow breast chopped into bite-sized pieces
Preparation
Brown the crow breasts in a skillet with butter or oil. When browned, place them in a Saute onion, celery, chilies and garlic in butter until tender. Add the above ingredients and all of the remaining ingredients to a crock pot and cook on low for 6-7 hours.
To serve, heap about 1 cup of rice in the center of the plate, and ladle a generous amount of the sauce around it. Garnish with fresh chopped parsley.
Crow Casserole
Ingredients
12 pieces of crow breast meat (no bones) (6 crows)
2 quart sauerkraut
6 slices of bacon
1/3 cup of chopped onions
Preparation
Brown the crow breasts in a skillet with butter or oil. When browned, place them in a casserole dish on 1/2 inch layer of sauerkraut. Lay a 1/2 strip of bacon on each 1/2 breast and sprinkle the onion on them. Next, add another layer of sauerkraut and some of the juice. Bake at 350 degrees for 2 hours.
Crock Pot Crow
Ingredients
12 - 16 pieces of crow breast meat (no bones) (6 - 8 crows)
2 cups barbecue sauce
1 cup water
1/3 cup of brown sugar
1/3 cup of chopped onions
1/3 cup of chopped green peppers
salt and black pepper to taste
Preparation
Shred crow breasts into as small pieces as possible. Add to crock pot with all other ingredients. Cook in crock pot for 6 hours on low. Serve over rolls or bread.
Crow In A Blanket
Ingredients
4 pieces of crow breast meat (no bones) per person
wild rice
bacon strips
butter
salt and black pepper
Preparation
Rub each crow breast piece with salt and pepper. Wrap each piece with a strip of bacon and place 2 wrapped pieces in aluminum foil. Cook at 300 degrees for 2 hours. Serve hot with steamed wild rice, generously buttered.
BBQ Crow
Ingredients
10 crow breasts
BBQ sauce
2 onions
Tabasco sauce
Preparation
Place crow meat in a deep pan. Pour as much BBQ and Tabasco sauce as desired over the crow meat. Let marinate for at least 2 hours. Slice onions into thin slices and push out the centers to make rings. Place onions in skillet and place crow breasts over onions. The two flavors will combine while cooking. Put skillet on stove and cook until onions are brown and meat is tender. Serve crow over the onions.
Matthews Magic Stew
Ingredients
20-24 crow breast pieces (10-12 crows)
1 bag of celery
2 onions
2 pounds of baby carrots
2 cans of beef consume
1 cup flour
Preparation
Chop up celery and onions. In a crock pot, place two alternating layers of meat -onions -celery -and carrots. Pour both cans of consume into pot. Let cook for 6-10 hours. A half hour before you are ready to serve, remove about 5-6 cups of liquid and mix with 1 cup of flour for a thickener. Mix all contents (stew & thickener) well. Let stand for half an hour, season with salt & pepper to taste, and enjoy. This recipe works well with almost all game (and non-game) animals. Some that I have tried are Deer, Squirrel, Rabbit, Pigeon, Duck, Goose, Bear, and Beaver.
The
"So good you'll want to slap your mother-in-law"
Recipe
submitted by Jim Anderson
Ingredients
16 pieces of crow breast meat (no bones) (8 crows)
16 pieces of jalapeno peppers (or banana peppers)
16 strips of bacon
1 1/2 cups of Teriyaki sauce
Preparation
Place breast meat in a covered bowl with the Teriyaki sauce over night.
Cook the breasts in boiling water for about five minutes. Cut up fresh
jalapeno peppers into circles (or use the store bought kind that come in
jars). Place one jalapeno pepper in the center of each breast and wrap with
bacon. Secure the bacon with a round toothpick. Cook on the grill until
bacon is crisp (not burned). Flip the breasts constantly to avoid the fat
catching on fire. Use banana peppers for people that don't like their food
quite so hot.
Crow Bean Roast


submitted by Robert Cobb
Ingredients
6-8 Fresh Crow Breasts
1 - 2lb. Package of Red Beans (that's pinto beans for you northerners)
Cooking oil or Bacon grease
Baking soda
Chopped Onions
Chopped Bell Peppers
Garlic powder or garlic salt
Salt
Pepper
Preparation
Place a tablespoon of Cooking Oil or Bacon Grease in a crock pot, add a tablespoon of Baking Soda, pour the beans in and fill the crock pot 1/2 - 3/4 full of water and stir to mix the baking soda and oil. Add the crow breasts and add the other ingredients (amounts determined by taste preference). Finish filling with water, turn crock pot to high setting and allow to cook for a minimum of 6 hours, adding water as needed. Serve hot, but be careful, this one will make ya wanna slap yo momma!!!