"Native American Ceremonial Dress"
Pueblo Tribe
Aaron Gonzales, tribal member of the San Ildefonso Pueblo Indian Reservation, has asked Crow Busters members to donate crow feathers to the tribe for use in making ceremonial outfits used in tribal rituals and dances. The San Ildefonso reservation is located in North Central New Mexico where it is illegal to hunt the common crow or raven. Mr. Gonzales says, "there are a lot of different ways that we can use crow feathers, most of which are sacred to us. We also use many other bird feathers like duck, geese, quail and turkey. We especially need the turkey feathers!".
If you wish to donate any bird feathers to the reservation send them to:
Aaron Gonzales
Rt. 5, Box 304 A
Sante Fe, NM 87501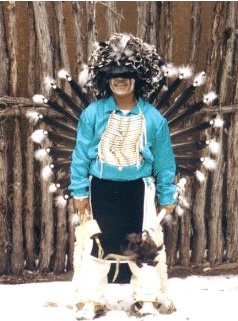 This head dress is made mostly of duck (wing) feathers and crow (wing and tail) feathers.
All together, over 400 feathers were used.