"Crow Hunting In Japan"
by Maj. Roy Fukuoka (USAF, NC)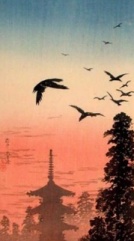 Guns and hunting in Japan? Most westerners think that guns are outlawed in Japan. The truth is that local Japanese cannot own handguns, but are free to purchase shotguns and rifles. Iím presently stationed with the Air Force at Misawa Air Base in northern Japan. It is a combined U.S. fighter wing as well as Japanese Self Defense Force Base. This area of Japan is considered "country" and consists of farms and mountainous terrain. Presently, there are only two Americans who hunt this area. The cost of hunting is fairly expensive (approx. $800.00) which probably limits the number of people hunting.
The process to receive ones license is fairly detailed. First a written test on game laws is required. Then another game identification test is taken. This is followed by demonstration of firearms safety as well as distance estimation. Finally off to the the skeet range for shotgun qualification. This process was completed in 2 days.
Any competent person can own a shotgun or rifle. All firearms have to be registered with the local police department and when registered, a "blue book" containing information on the firearm is received. The blue book must be in possession whenever transporting or hunting with the firearm. After being a registered hunter for more than 10 years, one may use a rifle for hunting (axis deer, bear). New firearms are very expensive. For example a new model Remington shotgun may cost the local hunter over $3000.00. For many Americans, the used gun market here offers many bargains. Fully functional shotguns can be purchased from $30.00 on up. Since stationed in Japan, Iíve purchased a few Belgium A-5ís as well as SKB over/under, side by side as well as a few rifles well under the blue book prices. Bird hunting is our main focus here, Misawa being a duck hunters paradise. Redheads, spotbills and pintails abound. Three different variety of pheasants can be hunted also. Due to the high cost of hunting, crow hunting became our method of recouping some of our expenses.
In Japan, crows are thought as evil birds. Farmers especially despise them due to the damage to the rice and vegetable crops. Because of this, the govt offers a bounty on crows. During four special seasons, the govt of Japan offers a bounty of 500 yen or about $4.75 on each crow. What we do is set our hunting area close to the local dump. Crows frequent this area and it is not uncommon to see flocks of more than 100 birds flying at a time. We hide our vehicles under a tree and play the "fighting crows" tape. What happens next is fast and furious action. Last week, I had 50 crows circling 20 ft above my head. I couldnít reload fast enough. We save the feet as proof of kill. I use a Belgium Browning A-5 with a modified choke and my partner a Remington 870 also with a modified choke. Besides providing more enjoyable practice than going the the skeet range, crow bounty will allow us to recoup most of our cost.