"A Crow Hunt to Remember"
by Bob Aronsohn (Sr. Field Staff Advisor)
Part One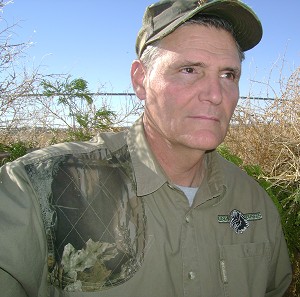 I picked Jerry up at the airport in Wichita Kansas and we were off and going down the road to our hunting destination. All we did was scout the first day lining up different spots for what ever way the wind blew.
Our first hunt was an afternoon shoot. We had a nice windy afternoon in which to hunt in. The wind was in the northwest at 20 to 30 mph and 58 degrees outside. We were in a river bottom out of the wind and started shooting by 1:30 pm. We shot 331 crows from 1:30 pm to 4:45 pm. Bob - 157 Jerry - 174
Our next two hunts were not that great, mainly because I missed the flyway two days in a row. Our second hunt we shot 87 between us. Bob - 43 Jerry - 44
On day 3 we shot 75 between us on an afternoon shoot. Bob - 38 Jerry - 37
On day 4 we shot 179 crows in the morning from 8:00 am to 10:45 am. Then picked up and went cruising in the pickup. The wind came to the northeast that afternoon at 25 to 30 mph. I just happened to have a good spot for that kind of wind. Jerry & I shot 246 crows that afternoon with a grand total of 425 for the day. Bob - 209 Jerry - 216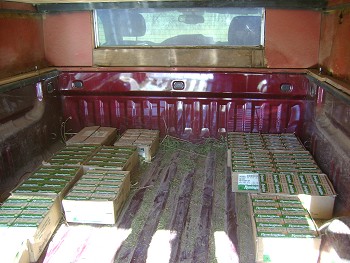 Bob's Ammo Dump!
On day 5 we shot a feeding area in the morning but it turned out so good we stayed there until 4:30 that afternoon. We shot 404 crows from 8:00 am till 4:30 pm. It was beautiful out that day, 64 degrees with a west southwest wind of 10 mph. Bob - 211 Jerry - 193
We just scouted on day 6 because we had such a good shoot the day before. I wanted to check a few things out anyway.
On our final day I had an afternoon shoot lined up. The wind was in the northeast again so we got setup by 1:30 pm and shot until 5:00 pm that day. We shot 148 crows between us. Bob - 80 Jerry - 68
The grand total on our first trip was 1,470 crows.
Part Two
Ok, we are back in Kansas and we are off and running!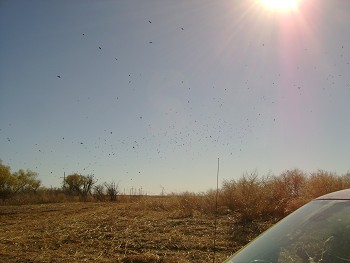 We set up on a morning hunt and shot 86 between us. That afternoon we set up again in a different area and shot 154 from 11:30 am to 5:00 pm. It turned nasty that afternoon and I knew the crows would head back early. I said to Jerry at 9:30 am that morning "lets pull up stakes in this spot, we are just spinning our wheels here". Two hours later I got us in a much better spot. Grand total for the day was 240 between us.
Day 2 we just scouted.
Day 3 we shot 135 crows on a nice little morning hunt from 6:50 am to 9:00 am. Wind was south at 5 mph and 40 degrees outside. Bob - 68 Jerry - 67
Day 4 we had a morning flyway shoot in a nice draw out of the wind. Wind was southwest at 10 to 15 mph and 34 degrees out. We rolled 158 crows from 7:00 am to 9:00 am. Bob - 86 Jerry - 72
Grand total was 533 between us in 3 days of actual shooting.
We both headed back to Hutchinson. I played pool for the next week to 10 days while Jerry recuperated in front of the fireplace with a good fire going. Then we were off once again.
Part Three
Jerry and I arrived in a new area because we wanted to make friends with some new crows. LOL.
The first afternoon I could see that things were setting up rather well. I got set up later than I should have for this shoot but I'm glad I did because I learned a lot as far as the crows movements go. We shot 194 crows from 3:30 pm to 6:00 pm This was before we set all the clocks back for fall. We had a nice northwest breeze of 10 to 15 mph and 45 degrees outside. Bob - 115 Jerry - 79
Day 2 - We shot 209 from 7:30 am to 10:30 am then went out in the afternoon and shot 118 from 3:30 pm to 6:00 pm. Total was 327 crows for the day. Bob - 173 Jerry - 154
Day 3 - We shot 91 crows. 45 degrees outside with a southwest breeze of 10 to 15 mph. I just missed the flyway that day! Bob - 54 Jerry - 37
Day 4 - We shot 157 crows from 2:00 pm to 5:45 pm that day. Wind southwest at 5 to 10 mph. Bob - 85 Jerry - 72
Day 5 - We shot 254 crows from 12:30 pm to 6:00 pm. Wind - northeast at 25 to 30 mph 42 degrees out. Jerry and I had to drive way back into this guys ground. I told Jerry I was going to use the circle irrigation to get us outta there after dark, boy was I wrong on that one. When Jerry and I got all the gear back in the truck after the shoot it was just about dark outside. I followed the irrigation with my headlights but didn't know the damn irrigation had moved since we started shooting at noon time! The corn was all picked so I figured there was no need to irrigate, wrong again on my part! I was heading northeast instead of south in order to get out of that god forsaken spot. I told Jerry "we are not going right" Jerry said "don't get excited Bob". I said "I sure don't want to sleep in the truck tonight!" So I cranked the 4x4 around and put her on a due south heading and we finally made it out and hit the main road. This adds a little spice to life when you are lost in the dark! The things we get into just to hunt crows! Bob - 134 Jerry - 120
Day 6 - We had a great field hunt. We shot 324 crows from 11:30 am to 5:30 pm. Wind southwest 10 to 20 mph and 40 degrees outside. This was the shoot with me holding the 7 gallon bucket of empty hulls (below). Bob - 166 Jerry - 158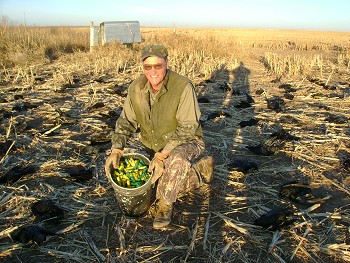 Day 7 - Our last shoot. We did another field setup where we put the dead crows on top of the cut milo, they sure looked good to the crows because we shot 234 of them from 11:00 am to 4:30 pm that day. Here is a good photo of Jerry with the crows on the cut milo (below). Bob - 125 Jerry - 109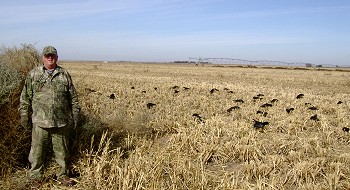 Conclusion
Grand total came to 3,584 crows on 16 shoots.
Bob - 1,872 Jerry - 1,712
This is the most crows I ever shot on a crow safari. This is most definitely a hunt that Jerry and I will remember for the rest of our life.