"Crow Hunting History"
by Bob Aronsohn (Sr. Field Staff Advisor)
In the plains states there were very few crows during pioneer times. As the vast expanses of sod were cultivated for corn, milo and wheat, the crows from the northern latitudes started to discover this virtual smorgasbord of food. It didn't happen overnight, but it did happen over a period of many years.
In Kansas there were very few crows here prior to 1912. I have interviewed many old-timers who farmed this area for generations, several whose ancestors homesteaded the land that is still in the family to this day. As farming became more mechanized the farmers could farm more ground and as a result the crows had feed to last them through the whole winter. It was from the early to mid 1920's that the crows started to come to Kansas by the millions! Nobody actually hunted crows in this area back then because they were more concerned with putting food on the table. If they did hunt, it was for game in which to eat.
In the area I live in they used to dynamite the crow roosts and kill them by the thousands in one blast. The last crow roost bombing was in Stafford County, Kansas in 1952. I hunted crows over around St. John, Kansas from 1974 to 1984 and then they got rid of the roost by pushing all the trees out with a bulldozer. A very sad day indeed! Boyd Robeson (my hunting buddy) and I were sick when we got the news! Not to worry, we still had two other big roosts within 40 miles of our homes. But you still hate to see a very good hunting territory go away!



Original crow roost bombing sign, circa 1930's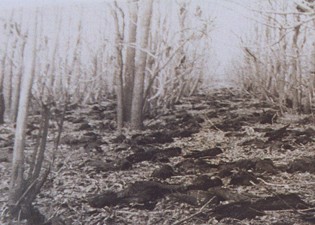 Aftermath of a bombed roost
During the depression from 1929 to 1935, the US government would give the farmers free ammo to shoot the crows. Who says Uncle Sam isn't a nice guy! I have one of these old Government Issue wooden cases that held 20 boxes of ammo. This was all 12-gauge ammo, low brass #8's. I have it in my "Crow Museum" at home in Kansas.


Box from government issue free shells, circa 1930's
Here in Hutchinson, Kansas and St. John, Kansas there were two of the biggest roosts in the state. There were also other smaller ones that had populations of 75,000 to 100,000 crows in those days. Hutchinson had a town (and still does) just north of it (Medora, Kansas) that held well over two million crows back then. When I came on the scene in the late 1960's, this roost still had well over one million birds.
In Oklahoma and Texas they had crow roosts even larger than at Medora and St. John's, Kansas. At the famed Ft. Cobb (in Oklahoma), the size of that roost was somewhere between twelve to fourteen million crows in one roost! They had another roost up at Shamrock, Texas in Wheeler County back in the early to mid 1970's. That was 150 miles from FT. Cobb, Oklahoma. Boyd Robeson and I had some good shoots in that area back in those days.
In the very late 1950's to early 1960's a new era was being born. Enter the e-caller! While these phonographs were crude by today's standards, they sure worked. Prior to the e-caller hunting was strictly by using a hand held crow call or pass shooting the crows. Those were the only two choices you had in those days. I remember that you only got about 2.5 to 3 minutes of play time on those old vinyl 45 rpm records before you had to pick up the arm of the record player and reposition the needle onto the record. Boyd and I used to keep a dowel rod with us so as to prop up the lid on the e-caller so we would have faster access to the phonograph. This let us keep the record going almost nonstop during the height of battle.
The e-callers that first hit the market back in the late 1950's to early 1960's would drive you crazy. The reason is because the batteries would only last for about two hours before you had to put new ones into the machine, and that's why I'm a little nuts even to this day. The crows were all uneducated when those old e-callers came on the scene and even with their lack of volume and many other kinks to work out, they were shear magic. There were no call shy birds back then because very few guys would spend money on one. But for the diehards that did, it was truly an amazing time in crow hunting history.